Scout Mission: The mission of the Boy Scouts of America is to prepare young people to make ethical and moral choices over their lifetimes by instilling in them the values of the Scout Oath and Scout Law.
Scout Oath: On my honor I will do my best to do my duty to God and my country and to obey the Scout Law; to help other people at all times; to keep myself physically strong, mentally awake, and morally straight.
Scout Law: A Scout is Trustworthy, Loyal, Helpful, Friendly, Courteous, Kind, Obedient, Cheerful, Thrifty, Brave, Clean, and Reverent.
---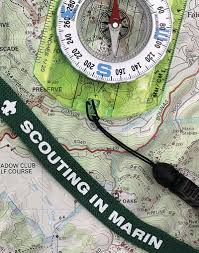 Scouting Programs in Marin
In addition to the programs described below, we have many resources to help Scouters at all levels deliver the promise of Scouting to the youth of Marin County. Contact the Marin Council, BSA professional staff at our San Rafael offices (415-454-1081,

or by email

) or

follow this link

if you are interested in joining a Scouting program or would like more information about a local Scout unit.
Here is a brief document entitled What is Cub Scouts?

Click on the logos below to visit the BSA National Council website which has comprehensive descriptions of all the Scouting programs for youth including Cub Scouts (K - 5th grades in Packs), Scouts BSA (11-17 years old in Troops), Venturing and Sea Scouts
(coed 14-20 years old in Crews and Ships),
and Exploring (coed 10-20 years old in Clubs and Posts).