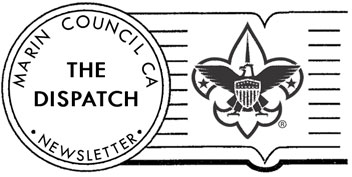 Marin Scouting's monthly newsletter
Click Here for a FREE email subscription
Click Here to view our latest edition for September 2020
---
News Updates & Quick Picks:
CLICK on these images for more EVENT INFO or to REGISTER NOW!
Monthly Roundtable Meeting on ZOOM with links below; next on Thursday 10/01
For our Council response to CoViD-19 updated Thursday, August 20 . . . click here.
For local INFO/FAQs about returning to Scout unit activities . . . click here.
The BSA National Council is providing a special site for FAQs about Scouting and the Coronavirus here; updated 08/30/20.
In response to our regional "Shelter in Place" directive and "Social Distancing" recommendation, your Marin Council team is pleased to offer our Scouting Youth a new "Scouting @ Home" program geared toward fun and advancement opportunities. Just click on the name to download more details!
The BSA National Council also has more program ideas here!
---
Like us on Facebook:

Marin Council, BSA

Camp Tamarancho

Camp Marin Sierra

Friends of Tamarancho (Mountain-Biking)

Click the CARS logo to donate.

Donate any vehicle, running or not,

to the Marin Council, BSA.

(Auto, truck, motorcycle, farm equipment, RV, boat)

Note: If your vehicle is in very good condition and might be useful to Council or Camping operations, please call us first!

415-454-1081 --- and thanks for your support!