Frequently Asked Questions (FAQ) about Camp Marin Sierra's

Summer Boy Scout Resident Camp
Q: Where is the camp located?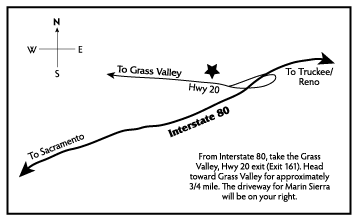 A: On Highway 20, about 3/4 miles off Interstate 80 near Emigrant Gap, CA.
Q: How do I get there?
A: Heading east from Sacramento or west from Reno on I-80, take the Highway 20/Nevada City exit (Exit 161). Follow Highway 20 about 3/4 miles to the Camp Marin Sierra sign on the right-hand side of the road. There is a large, red iron gate. DO NOT USE GPS or MAPQUEST-type services. You will get lost.
Q: How long does it take to drive to camp?
A: 3 hours from San Rafael,CA; 1-1/2 hours from Sacramento, and a little over 1 hour from Reno.
Q: Can I get a map of the camp itself?
A: Click here to download a map of Camp Marin Sierra.
Q: Do I need to bring a tent for Boy Scout camp?
A: No. Camp Marin Sierra has a tent already set up for you, just bring your sleeping bag and other personal gear. Personal tents are permitted, but check regarding platform sizes and other site-specific info.
Q: Do I need to bring anything?
A: Bring your utensils, cup, and plate. Bring your uniform and extra outdoor clothes, rain gear, merit badges books, paper, pencils, and money for the trading post.
It is recommended to have a backpack to carry your gear to the campsite, but not required. Download the Parent Information Guide for more information and consult your troop leadership.
Q: What are the eating arrangements?
A: Both campwide dining in our outdoor facility, and in-camp jamboree-style meals are available. If you choose jamboree style, we recommend you bring your own cooking gear; however, if you need to supplement that, you may borrow ours.
Q: What merit badges are offered in camp?
A: Camp Marin Sierra offers a wide variety of summer camp badges in the nature, outdoor skills, handicraft, waterfront, and shooting sports areas. Here is a list, and also see the Leader's Guide for details (5.8 Mb File). All registered troops will receive printed copies of the Leader Guide and Parent Information Guide via U.S. Mail.
Q: What happens if a specific merit badge class is full?
A: Most scheduled classes offer multiple possible sessions throughout the day. For example, there may be 4 Swimming classes available. Scouts should plan for the classes they want but have alternate plans if the time slot they wish is full.
Whenever possible, we will accommodate campers by opening up additional classes to meet their needs.
Q: Is the lake cold?
A: NO! Chubb Lake is warm. The lake reaches around 70-75 degrees during the day.
Q: How big is Camp Marin Sierra?
A: Camp Marin Sierra can accommodate up to 340 Scouts, not including leaders, per week in 14 campsites. The entire camp is approximately 330 acres.
Q: How much does a week of camp cost?
A: A lot less than many summer camps! Check our current weekly fees.
Q: What weeks does Camp Marin Sierra operate?
A: You can find the dates for the next season here.
Q: I have older boys. What do you have for them?
A: C.O.P.E. course, Swimming and Water Rescue, Paddlecraft Safety, mile swim, climbing, Trail to Eagle merit badges, and staff opportunities.
Q: I have new Scouts. What do you have for them?
A: Fireman chit, Toten' chip, and Tenderfoot through First Class ranks can be earned in the Trail to First Class program area. Also, many merit badges are available and appropriate for younger Scouts.
Q: Can we hike out of camp and overnight in the Tahoe National Forest?
A: YES; we encourage it. On Wed. night (Troop Night) just inform the camp director and contact the commissary for backpacking meals (at least 24 hours in advance). The staff can recommend great places to visit.
If you wish to come in a day early (Saturday) and hike out overnight, we do not provide food. However, you can get your site set up, hike out for the night, and come back by noon on Sunday for check-in.
Q: How do I get more information?
A: By phone (415) 454-1081
by fax (415) 454-5511
by mail 225 West End Avenue; San Rafael, CA 94901, or
by e-mail