We carry a full inventory of Scouting uniforms, advancement materials, caps, t-shirts, reference material, gifts, and more!

Normal Hours: Monday - Friday, 10:00 a.m. to 5:00 p.m.
Tuesdays, the store is open until 7:30 p.m.

Location: Click here for MapQuest Directions

225 West End Avenue
San Rafael, CA

415-454-1081
Science Kits!
Not only are these kids' kits packed with hands-on fun, but they also help Scouts earn their NOVA award (kit activities tie in specifically with NOVA requirements!).
Great Christmas/Hanukah or den meeting gifts!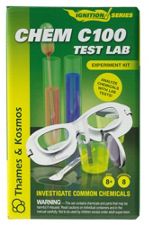 CHEM C100 Test Lab
Science Kit

$14.00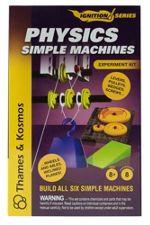 PHYSICS Simple Machines
Science Kit

$14.00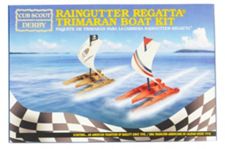 Raingutter Regatta Racing Kit

$5.00
Raingutter Regatta is changing! They have discontinued the old traditional race boat kits with a new Trimaran.
It's the exciting next step in raingutter racing. BSA® introduces an exclusive alternative to the original Raingutter Regatta® single-hull design-the NEW Trimaran Boat Kit! Built for stability and speed in the water, the trimaran hull is specially designed to prevent your boat from tipping over during the race. Kit includes exclusive BSA® trimaran hull, two balsa wood outriggers, sail, mast, screws, sanding stick, and instructions.
Raingutter Regatta® Inflatable Raceway
$25.00
Heavy-duty vinyl raceway requires only two 6' tables for support. Place tables end-to-end, inflate the raceway, and use a garden hose or bucket to fill each racing lane with water. Each lane holds approximately 4 gallons of water.
Segment Suggestions:
For Tiger Cub Expedition
Shooting
Popcorn Sales
Scouting for Food

COMING SOON:

Boy Scout Nutcraker $17.00 Scout is painted in full uniform and carries a US flag pennant. Measures 14" high.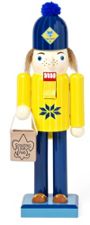 Cub Scout $15.00 Design features a youth in a Cub Scout knit cap holding a brown kraft bag with "Scouting for Food" lettering. Measures 10" high.
Limited quantities—produced one time only. These will make great gifts for den and pack leaders, but get them before they are gone. Due in the store Nov 6.